Welcome to the Free Music Archive
"It's not just free music; it's good music."
massdist on 08/23/2017 at 06:21PM
3 oddball CSC Funk Band releases on the internet for the first time!
"Live at Zebulon" is our first tape. 4 pretty tight performances. Repetition Repetition Repetition.
"Racket" is a compilation of some one off live jams. A little looser.
"Free" is a mess. I'm not even sure it's listenable but it sure is fun. 
Via Mass Dist » Visit Blog
» 0 COMMENTS
cheyenne_h on 08/18/2017 at 03:18PM
Legendary Japanese ensemble Acid Mothers Temple played at WFMU's Monty Hall earlier this year and generously shared their music with the Free Music Archive. Acid Mothers Temple Soul Collective has been in existence for more than twenty years, touring the world in various forms. Their bandleader, Kawabata Makoto, has been at the heart of the project from the beginning.
Though we love sharing audio from performances (you can stream or download below, or visit the artist page on FMA), this one is also worth watching, if you have time. We've embedded it below for your psychedelic-freakout-enjoyment, courtesy of WFMU: 
Acid Mothers Temple from WFMU on Vimeo.
A freak-out group for the 21st century was founded in 1995 by members of the Acid Mothers Temple soul-collective and led by Kawabata Makoto.
This is their Monty Hall Performance from April 24, 2017.
» 1 COMMENTS
Compilation of Artists from Bruitsnetlabel (France).
Open-minded and experimental musicians in electro, soundfield recording, live research, concrete, improvisation, and noise Musics.
Via Murmure Intemporel » Visit Blog
» 0 COMMENTS
cheyenne_h on 08/15/2017 at 12:51PM
Feel like you're missing out on FMA comings, goings, and doings? Fear not! We have devised a means of keeping you up-to-date! (It's actually just an e-mail newsletter. We're all out of carrier pigeons and mustachioed gentlemen to hand out paper newsletters. Our sincere apologies.)
If you're not getting a monthly email from us, and would like to, please sign up (click "Read More" and enter your email address). We'll take it from there! 
READ MORE
» 1 COMMENTS
Subscribe to our Song Of The Day Podcast!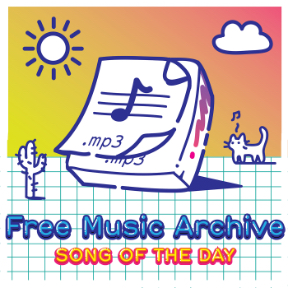 Subscribe to our Song of the Day Podcast! It's a fun, free way to get hand-picked music delivered to your computer or device every weekday. Dive in to the FMA's amazing catalog and load up on new tunes! 
SUBSCRIBE! Or look for it everyday on Twitter & Facebook.
Browse by Genre
Blues
Classical
Country
Electronic
Experimental
Folk
Hip-Hop
Instrumental
International
Jazz
Old-Time / Historic
Pop
Rock
Soul-RnB
Spoken